Joanna Jedrzejczyk took on the women's strawweight champion Weili Zhang in the co-main event of UFC 248. It was a back and scary forth battle between the two.
Read Next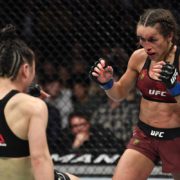 Michael Bisping, Francis Ngannou Hail the Fight Between Zhang Weili & Joanna Jedrzejczyk
Joanna Jedrzejczyk took on the women's strawweight champion Weili Zhang in the co-main event of UFC 248. It was a back and forth battle between the two.
Joanna Jedrzejczyk (16-3) is regarded as the greatest strawweight of all time. She had won the title in her third fight and defended it 5 times before losing to Rose Namajunas. Joanna walked into the fight as the underdog against the champion, Zhang Weili.
On the other hand, the champion was on a 20 fight win streak walking into the fight. Weili became the first Chinese champion in the UFC by defeating Jessica Andrade in 42 seconds. This was her first title defence since her victory.
The fight opened up with leg kicks from both women. Immediately, both of them exchanged combinations and set the pace for the rest of the fight. While trying to establish her striking dominance, Joanna quickly realized the power in Weili's hands.
In terms of body strikes and leg kicks, Joanna outstruck Weili. However, Weili stunned her every time she got into the pocket. The power advantage was visible right from the get-go.
Both women took significant damage in the fight. While Weili was hurting Joanna, she lacked the striking defence. The champion got tagged as well, and her face was swollen in the early rounds.
There were multiple grappling exchanges in the fight. Weili tried to clinch with Joanna and dragged her to the mat multiple times. However, the takedown defence of Joanna was brought into play, and the former champion popped back up whenever she was dragged down.
Twitter reacts to the war between Joanna Jedrzejczyk and Zhang Weili
Joanna Jedrzejczyk gets a makeover
Somewhere in round 3, a huge hematoma appeared on Joanna's forehead. The bubble just kept growing bigger and bigger throughout the fight. Multiple exchanges in the pocket allowed Weili to target Joanna's face over and over again. Around 600 total strikes were already thrown by the time it was round four.
As the fight moved on, Joanna's face started getting worse. Even her nose took some severe damage. By the fifth round. Joanna was completely unrecognizable. Her face was a mess. However, the challenger showed why she is the all-time great. Despite the swelling and the blood, she kept going. Joanna was unfazed by any of the damage to her face.
Weili started strong in the fifth round. She brought the fight to Joanna. Both fighters received a standing ovation from the crowd.
The fight ended in a split decision with the champion retaining her title. However, you cannot undermine Joanna's efforts. It was a close fight and could have gone either way